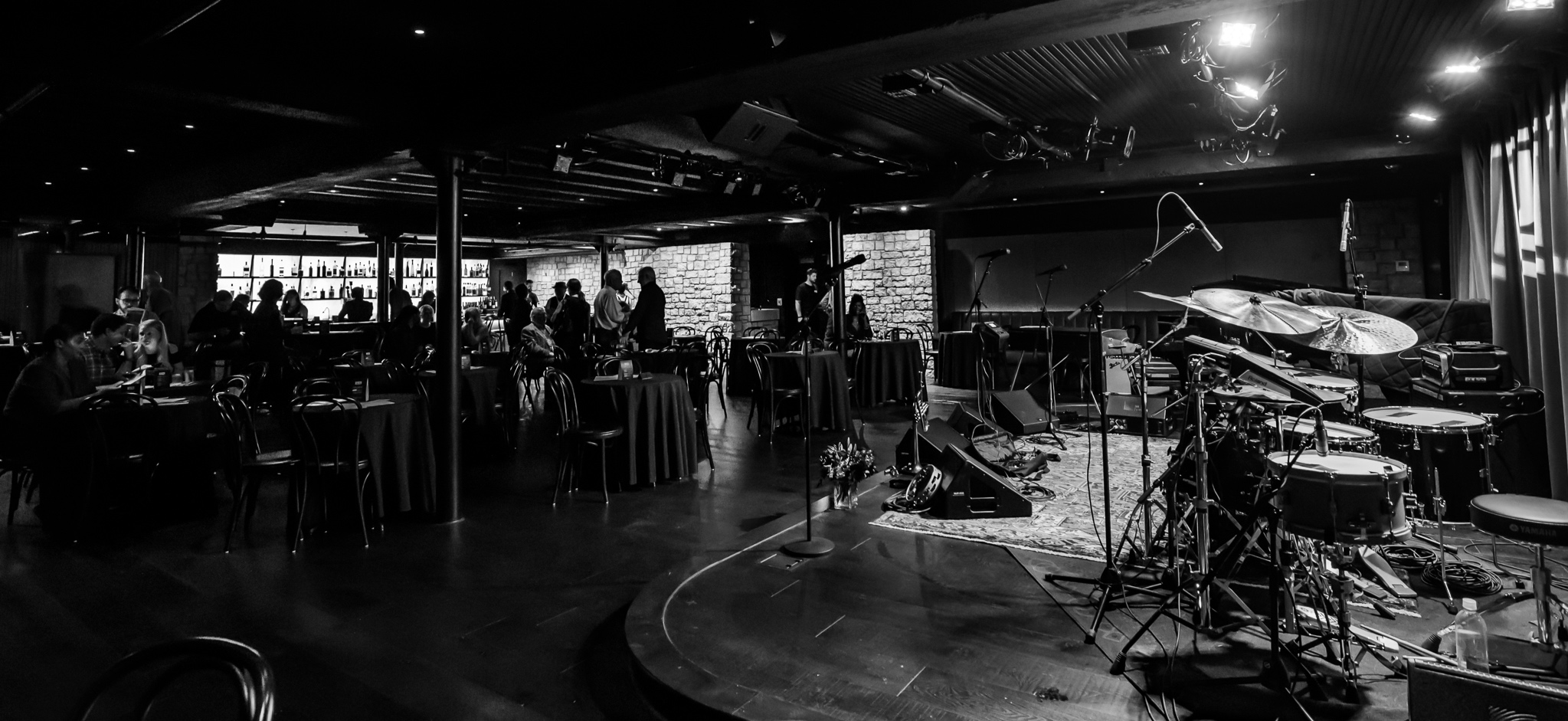 What time do doors open?
Doors to the club open 60 minutes before show time. The restaurant is open from 11:00am- 11:00pm. Tickets (if available) may be purchased online or 60 minutes before show time downstairs at the door. Check our web site for show times.

Do I need to purchase dinner in the restaurant if attending a show?
Dinner in the restaurant is optional but highly encouraged! Small plates are available in the venue. Patrons dining in the restaurant and have tickets to the evening's concert should inform the restaurant manager upon arrival. There is no drink minimum in the club.

Can I make a reservation for dinner?
Dinner reservations through the restaurant only.

Must I attend the concert in order to eat at the restaurant?
No, but we encourage you to check out a show for the full Duet experience.

Where do I pick up my advance tickets?
Duet Jazz does not have a formal box office or will call. Tickets purchased through our web site can be printed from home or be shown from your phone at the door. Check-in at the club when you are ready to be seated. For more show info call 539-664-5029.

What forms of payment do you accept?
We accept Visa/MasterCard/Discover/American Express and cash at the door.

Do you offer discount tickets?
Sorry we do not offer any discounted tickets.

Is there a dress code?
We do not have a dress code.

Is their reserved seating?
Duet is a general admission venue.

How many people does the venue seat?
Duet Jazz seats 140.

May we stay for more than one show?
One ticket gets you into one show. The house will be cleared between shows.

If I can't go to the concert, can I get a refund or exchange my tickets?
Except in the case of a concert cancellation or date change, no refunds or exchanges are permitted.

Where can I park?
Street parking is available throughout the neighborhood. Parking garages are located at 1st and Detroit and 1st and Main. The surface lots south of Archer are available for evening parking except when there is an event at Oneok Field. Please do not park in the alley behind Duet.

What is your policy on photographs, audio and video recording?
Please no photography, audio or video recording of any kind. Out of respect for the artist and the audience, please silence your electronic device. We invite you to be present for the show!

Is the venue wheelchair accessible?
Yes, an elevator is located in the foyer entrance of the restaurant. If you require special accommodations, please call the office at (539) 664-5029 at least 24 hours before an event. When a show is sold out we can guarantee only (1) companion seat. Handicapped parking is available on Detroit Ave next to Magic City Books.

Do you have audio assistance for hearing impaired?
Yes, we are happy to provide our state of the art Listen Technologies system for assisted listening upon request.

Is smoking allowed?
Smoking, vapor pens and e-cigarettes are prohibited inside Duet and the patio.

Artist Submissions
Duet specializes in presenting Jazz and Comedy. All artist submittals must be emailed and include an audio or video link for review.
Please send submittals to Program Manager Jeff Sloan at jsloan@duetjazz.com. Duet does not accept calls from artists concerning bookings.